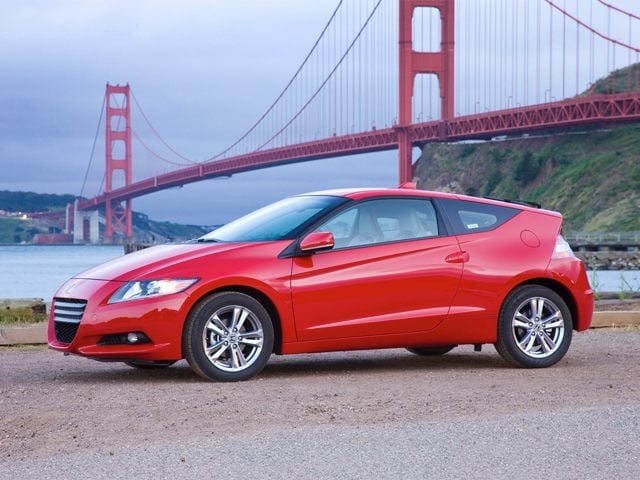 CR-Z Overview
Developed as a stylish, driver-focused vehicle with an emphasis on efficient "green" performance, the Honda CR-Z introduces a sleek two-passenger coupe design with quick, sporty handling to the gasoline-electric hybrid segment. A 1.5-liter i-VTEC 4-cylinder engine works with Honda's unique, compact and lightweight Integrated Motor Assist (IMA) system to supply both power and efficiency to the CR-Z. A sport-focused six-speed manual transmission is a first for any hybrid. An automatic Continuously Variable Transmission (CVT) is available and includes steering wheel paddle shifters for manual-like gear-ratio control. A new, exclusive 3-mode drive system allows the driver to configure the vehicle's responsiveness for Sport, Normal or Econ (Economy) driving modes. Driver efficiency tools include Eco Assist and Eco Scoring, which together can help drivers find improvements to efficient driving styles while also comparing economy achievements to previous trips and over the life of the vehicle.
CR-Z Highlights
Two-passenger sport hybrid coupe with stylish and aggressive exterior
Gasoline-electric hybrid with Integrated Motor Assist (IMA) technology
Driver-focused cockpit design with sport seats and 3-D instrumentation
New 3-mode drive system tailors throttle response, steering and IMA assistance to the driver's preference
Performance-engineered suspension design
Standard safety features: Front, side and side-curtain airbags, Vehicle Stability Assist (VSA) and Advanced Compatibility Engineering (ACE) body structure
The exterior's "one-motion wedge" body form generates an aerodynamic, sporty style with a low hood and an aggressively wide stance. A lightweight, rigid platform and a chassis with a wide track, short wheelbase and performance-oriented suspension components include aluminum front lower control arms to elevate the vehicle's handling dynamics. The interior concept is fashioned around a high-tech coupe style and uses premium-quality materials, while also providing useful space for storage of everyday items.
Contributing to the fun-to-drive feel, the instrument panel's 3-D meter design with its color transitioning outer ring harmonizes with the hybrid technology by changing from green (efficient) to blue (less efficient) as part of the Eco Assist system, or remaining solid red while in Sport mode.
The "3-mode" hybrid drive system allows for more individualized vehicle performance preferences with Sport, Normal and Econ modes. In Sport Mode capabilities include increasing the IMA power delivery curve at lower RPM and electronically recalibrating steering effort for an enhanced performance feel. Sport mode best represents the dynamically sporty aspect of driving the CR-Z. Alternatively and for increased efficiency, the Econ mode can work with the driver to "smooth" throttle inputs, reduce the air conditioning system's impact on fuel consumption and potentially activate idle stop sooner when coming to a stop, which is particularly beneficial during stop-and-go city driving. Normal mode provides a balance between Sport and Econ modes, and is a good option for any driving situation. Overall, the CR-Z is designed to encourage elevated efficiency while also providing agile and engaging performance previously unavailable in a hybrid vehicle.